Dental Implants in Little Rock
---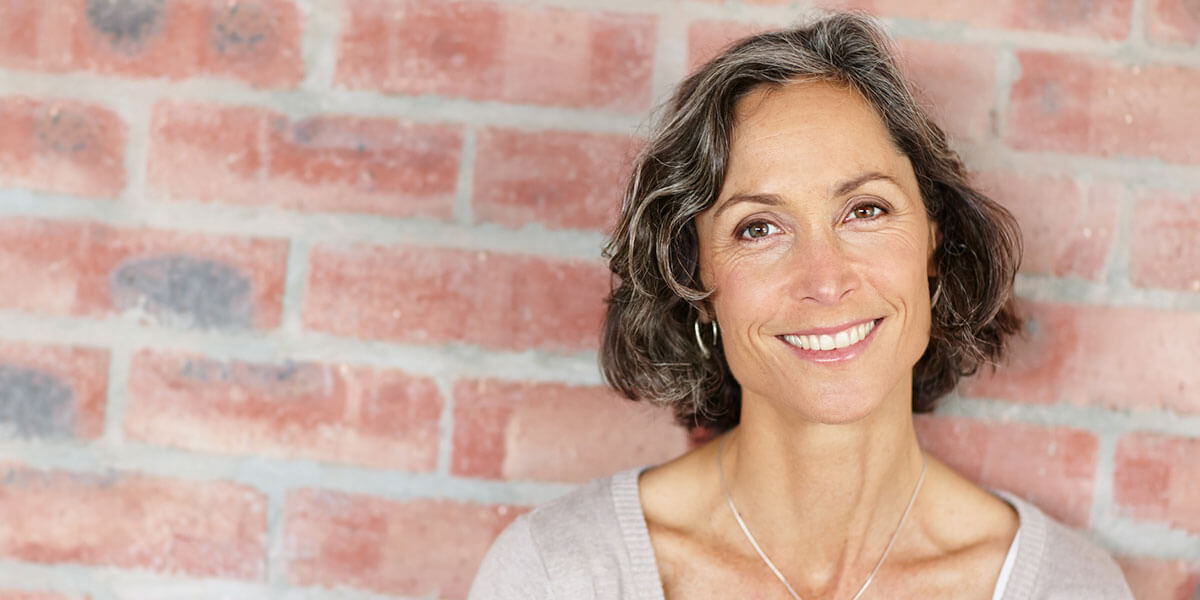 ---
Kevin G. Jones, DDS provides dental implants in Little Rock, AR. Call 501-225-4555 to learn more and schedule your appointment.
---
What Are Dental Implants?
---
Dental implants are the only solution for missing teeth that replaces their roots, preventing and even reversing jawbone loss. With dental implants, you'll get a stable, long-lasting restoration that looks, functions and feels like your natural teeth.
The dental implant fixture is a small biocompatible post or screw that is inserted into the jawbone to replace the root, then a restoration replaces the tooth above the gum line, and an abutment piece connects the two. Crowns, bridges, and dentures can all be supported by dental implants.
Dr. Jones uses advanced technology to ensure that your dental implant procedure is a success. This includes computer-guided implant placement, which involves creating a 3D model of your teeth and jaw to plan the exact angle and depth of each implant. With careful planning, the risk of complications is minimal.
Benefits of Dental Implants
---
Longevity
---
Dental implants are meant to last a lifetime. Follow our aftercare instructions and practice good oral hygiene habits and it's unlikely that your dental implants will ever need replacement.
Better Health
---
Dental implants prevent jawbone loss, which protects your remaining teeth and gives you the ability to eat the healthy foods your body needs to function at its best.
Improved Confidence
---
You won't have to worry about not being able to eat certain foods or having your dentures slip and impact your speech. Instead, you'll have the confidence to greet the world with a smile.
---
Are You a Good Candidate for Implants?
---
If you are in good overall health, don't use tobacco, don't currently have gum disease, and have the jawbone support needed for implant fixtures, you are a candidate for dental implants. If you don't have the bone mass for implants now, you may be a candidate for dental implant surgery after a bone grafting or sinus lift procedure.
Why Kevin G. Jones, DDS
---
Dr. Jones has received advanced training from the prestigious Pankey Institute and uses state-of-the-art technology and materials, so you can know you're getting your dental implants
from one of the top dentists in Little Rock. With his eye for detail, Dr. Jones provides high-quality restorations that mimic the look, feel, and function of your natural teeth.
---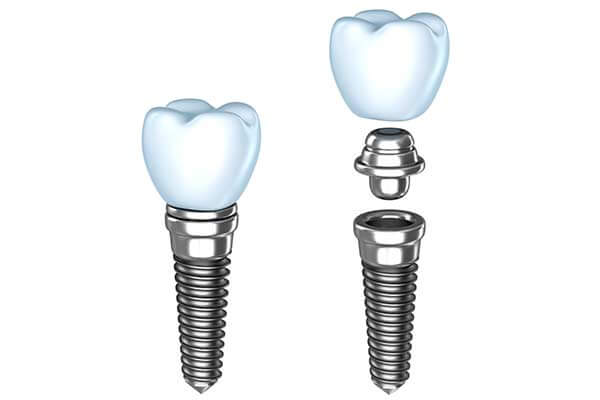 ---
Dental Implants
---
Dental implants are small anchors made of a biocompatible metal called titanium that are placed in the jawbone. Once placed, the anchors begin to fuse with the bone over the course of a few months. Once the implant has become firmly attached to the bone, we restore the missing tooth with a natural looking crown that is cemented onto the implant. 
---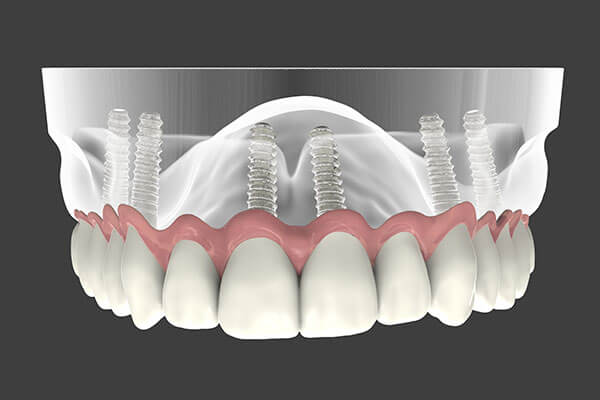 ---
Implant Supported Dentures
---
For denture wearers, we are seeing amazing, life improving results through the use of dental implants to secure the denture and keep it from floating or moving around. They can wear their dentures with confidence while also getting the added benefit of bone level preservation.
Implants can support both full and partial dentures as well as both fixed and removable dentures. If a removable denture is selected, the denture will "snap" on to the implant rather than requiring the use of denture paste or adhesives. Removable dentures can be taken out for cleaning at night.
---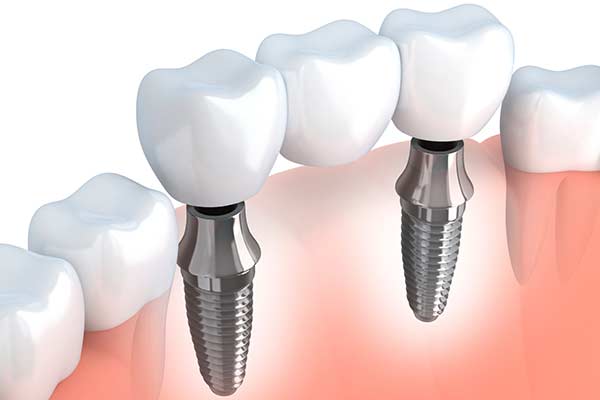 ---
Implant Supported Bridges
---
An implant supported bridge is a restorative solution for spaces where three or more adjacent teeth are missing. This restoration typically requires two implants to support the porcelain bridge. The bridge provides a functional and aesthetic replacement for a patient's natural teeth.
---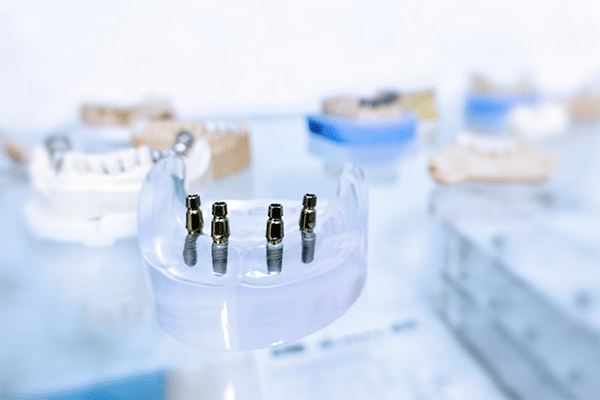 ---
Full Arch with Only Four Implants
---
This procedure is a unique implant solution that allows patients with a completely edentulous (toothless) upper or lower arch to replace all of the teeth in that arch using only four implants as anchors. Eligibility for this solution is dependent upon a number of factors, with jaw bone density being one of the most significant determining factors.
---
---
Frequently Asked Questions About Dental Implants
---
How much does a dental ceramic implant cost in Little Rock?

There are several factors that could influence the cost of a dental implant, but the average cost that you could expect ranges from $1,500 to $2,500 for each implant placed. Differences in implant companies, quality, design, and materials influence the price as well as the amount of bone available to place the implant. Additionally, you will need to have the implant restored with a crown restoration. The tooth crown that fits over the implant could cost anywhere from $1,500 to $2,500. A major influence on the varying fee range is determined by the implant manufacturer and material selection of the final crown restoration.

Why does the type of Implant matter?

As with any product, there are many different manufacturers of dental implants with a wide range of costs. Since a dental implant will be placed in the bone, it's important that you know the quality of the material. If you don't want metal in your body for health reasons then you will want a metal-free implant or ceramic implant of zirconia. The better implant companies, such as Z systems provide ceramic implants while metal or titanium implants offered by Dentsply, Nobel, and Straumann, also have a proprietary coating on the implant surface that promotes better bone healing. It is important that you ask your dentist what implant type and brand of the implant is being placed. Do you want to see a metal rim over time on your gums with a metal implant, if not then you need to consider a metal-free or white-colored zirconia implant.

How effective are Dental Implants?

Dental implant surgery is a procedure that replaces tooth roots with a titanium or ceramic screw-like implant post. Dental implant planning should include a pre-made surgery guide so that the 3-dimensional position of the implant is correct for the angle, height, and density of your bone. Dr. Kevin G. Jones uses a computer-guided implant appliance that precisely directs the implant into the bone and avoids incorrect placement that could damage a nearby tooth. Implant surgery guides are usually an additional cost, however, this is the way to choose the correct 3-dimensional placement of the implant based on a 3D CBCT x-ray and a digital guide of your teeth from a digital impression scanner. The implant guide is custom made only allowing the implant to be placed at the precision opening and angle as the dentist has designed on the computer before your surgery. The implant guide allows Dr. Jones to choose the correct size of the implant for you. The results of using a 3D implant guide are faster procedure placement time and quality results. Dental implants should last a lifetime with proper care and regular checkups during dental cleanings. In general, their success rate is up to 98% depending on bone quality and the quality of the implant restoration (implant crown). The success of the implant also depends on the force of the bite. If you clench your teeth, you might want to consider a protective guard to protect your teeth and implant crown.

How painful is it to get dental implants?

Dental implant surgery is done under regular local anesthesia, by numbing the area that the implant will be placed. Patients routinely report that they felt no discomfort during the implant placement procedure. At times a slight feeling of pressure can be expected. After the numbness wears off, you may experience some mild healing tenderness. Patients also regularly report that they were able to work or participate in their normal routines without any delay. The amount of discomfort is often dependent on how the patient typically heals after dental procedures.

Will dental insurance cover dental implants?

In many cases, dental insurance will contribute towards the cost of dental implants if your plan has coverage for implant services. If you have an FSA (Flexible Spending Account) or an HSA (Health Savings Account), you can use the money set aside in these accounts to pay for your implant procedures.

Can dental implants be done in one day?

Dental implants can be placed in one visit if there is supporting bone necessary for success. Reasons to not place a dental implant the same day are:  prior dental infection, poor immune system and healing, or poor bone quantity or quality.  Most commonly after an immediate implant is placed, you will leave with a tissue healing abutment which will be worn for 3-4 months before a permanent crown is placed. 

However, traditionally, dental implants are done in three steps.

The first step involves the removal of the failing tooth and placement of a bone graft to help preserve bone to allow placement of the implant after healing.

Step two will occur 3 months after step one. This is when the implant is placed. 

Step three occurs 3-4 months after implant placement and consists of the fabrication of your custom implant crown and post attaching to the implant called an abutment.

How long does it take for dental implants to heal?

Healing is dependent on where in the mouth the implant was placed. Healing time is different for dental implants depending on the quality of the bone in which it was placed. Healing time can range anywhere from 3-6 months.

Can I eat after implant surgery?

Yes! After implant placement, wait until the numb feeling dissipates so that you do not bite your tongue, cheek or lips. A soft diet is recommended for a few days after the implant placement and then you can return to your regular diet while healing continues.